How To Get Glowing "Glass" Skin: A Humidity-Proof Guide
I spend hours a day talking about skin care–and one thing never fails to come up–getting that perfect glowing complexion. It might seem straightforward enough, but with our humidity in play, things go from dewy to oily in a matter of minutes. So to keep your skin glowing on the go, we've put together this humidity-proof guide courtesy of ELC Beauty Insider!
Skincare

Anyone who knows me has heard the term double-cleansing a million times. And while clean, clear skin is the foundation of a good natural glow, it's just as important to follow up with a bit of radiance-boosting.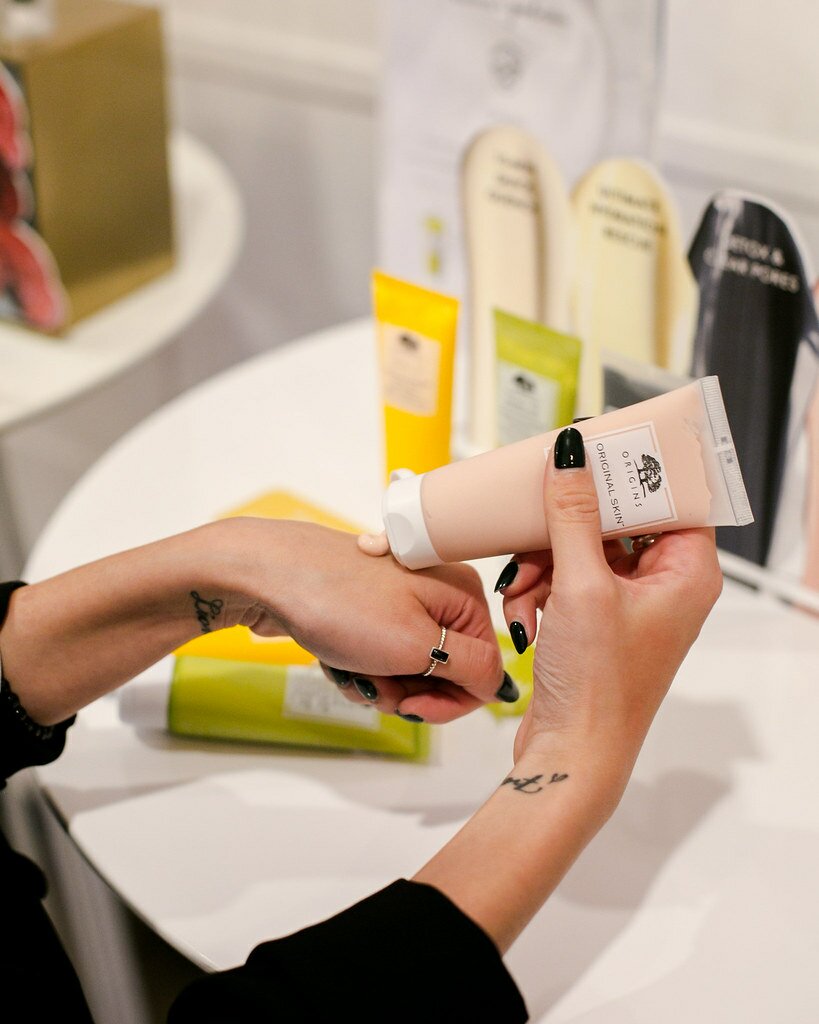 Post-double-cleanse we recommend going in with the Origins Original Skin™ Retexturizing 10-Minute Mask. The double-acting rose clay mask draws out impurities while gently exfoliating your skin to get rid of any dullness, enlarged pores and uneven texture. Unlike harsher clay masks, the Origins Retexturizing Mask deeply cleanses without stripping the skin of its natural oils–making this a great option for anyone with dry, sensitive skin.
You could follow up with your usual skincare routine, or double-up on the radiance-boosting with the Origins Original Skin™ Renewal Serum with Willowherb. The renewal serum is designed to restore your skin's youthful radiance over time while infusing skin with glow-boosting moisture instantly.
Base
When it comes to finding the right base, it's all a matter of knowing your skin type. I personally prefer compacts because they give my dry skin a natural, dewy glow. The only issue with compacts is that, even for dry skin users such as myself, the dewy sheen often turns oily in a matter of hours.
MAC Cosmetics' Lightful C Compact, however, manages to control oily skin while brightening the complexion. The formula also contains Coral Grass Extract, which helps skin appear plump, bright, clear and even. It also promotes healthier, more radiant skin in the long-term, by providing defence from environmental aggressors and free radical damage.
For those who tend to have an oilier complexion, we recommend going light with Clinique's Even Better™ Makeup Broad Spectrum SPF 15. Like we've mentioned before, the key to glowing glass skin is a smooth, even base. The Makeup Broad Spectrum foundation gives you just that by instantly perfecting skin, and smoothing out any uneven textures. On top of that, the dermatologist-designed foundation contains Vitamin C and antioxidants that actively work to reduce the appearance of dark spots, age spots and acne scars while protecting against future discolouration!
Highlight
And of course, we can't talk glowing skin without mentioning highlight. For a natural finish, however, we recommend stepping away from the powder highlights, and thinking cream or gel alternatives!
A neat trick we've been trying out lately is mixing our favourite blushes with a touch of gel moisturiser to mimic a healthy flush that glows from within. To achieve this, we pump half a pea-sized dose of Clinique's Moisture Surge hydrating concentrate onto the back of our hands. We then blend a touch of Clinique's Cheek Pop blush into the gel before dabbing it across our cheeks. You could do this with a brush, but we prefer to use our ring fingers to lightly tap the mixture across our cheekbones.
Keeping It Natural

Taking a page from NYFW's backstage beauty, we recommend rounding off this look with a natural, sheer lip colour. To get a runway-approved look, try Bobbi Brown's Crushed Liquid Lip in the shade Hippie Shake. The soft, sheer lip colour was used on all the models backstage, and is a universally flattering nude colour! We love that it finishes like a balm, adding to that overall healthy radiant glow.
ELC Beauty Insider

For more of the latest beauty drops, and insider tips, stay tuned! We hope this handy guide gets you the glowing skin you've always wanted. And if you have any burning beauty questions you'd like us to answer, leave it in the comments below or drop us a message on our Instagram!
xoxo,
Kat