From casual #ootds to high fashion shoots (and even some "bougie" on the side), Instagram is an endless mood board for style inspiration. But the problem with digital algorithms is that sometimes, they know you too well—all you see on your explore feed is the same ol' accounts with similar styles that you've clicked on before. If you're seeking fresh accounts to gather style inspiration, we share with you some of our favourite Instagram accounts to stalk for style inspiration. Happy scrolling!
Andrea's Style: Elevated, relaxed and ever-evolving
I do think my style regularly evolves. Right now I'm into neutral colours like whites and beiges which I typically wear tone-on-tone, or I will pair simple basics with anchoring colours like navy or dark green. Silhouettes that are easy and comfortable (like a pair of linen shorts, or an airy midi dress), or involve sleek tailoring are pieces I'm drawn to also.
Monikh Dale (@monikh)
The Grid: Statement Outfits + Interiors + Minimal
View this post on Instagram
Julie Sariñana (@
sincerelyjules)
The Grid: California Vibes + Laid-Back + Feminine
View this post on Instagram
Brittany Bathgate (@brittanybathgate)
The Grid: Simple + Sophisticated
View this post on Instagram
Stephanie's Style: A Splash Of Pastels And Sometimes…Classy?
I think the colour palette for my wardrobe is very much inspired by Edward Scissorhands' pastel neighbourhood. I really love the colours because they put me in a good mood. Of course, there are times where I feel like I've had enough of colours and that's when I look to @sasha.mei for more toned-down outfits.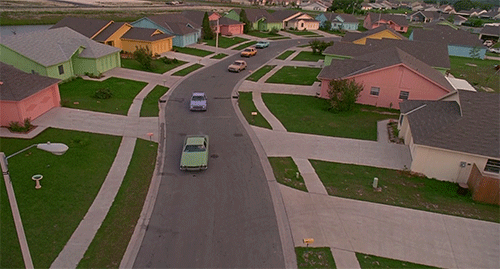 via gifer
If you're wondering what Edward Scissorhands' neighbourhood looks like
Anne Johannsen (@annejohannsen) 
The Grid: Pastels + Bold Hues +  Playful Prints
View this post on Instagram
Kim Eh Wa (@kimehwa)
The Grid: Cheery Vibes + Korean Fashion
View this post on Instagram
Shilin's Style: Understated, Comfy Yet Put-Together
I would describe my style as simple, easy and understated. I appreciate uncomplicated, loose-fitting pieces because they're just so comfortable. If styled right, you can achieve that "effortlessly chic" look!
Anouk Yve (
@anoukyve)
The Grid: Neutral Tones + Relaxed Fits + Interior Inspo
View this post on Instagram
Annemiek Kessels (@modedamour)
The Grid: Neutrals + Black & White + Minimalist 
View this post on Instagram
Melisa's Style: Clean Lines, Simple and Refined

I love clean cuts and styles that are effortless, uncomplicated and slightly classic. I'm not much of a colour person, I enjoy a more neutral palette, although black is always elegant to me. While I'm not much of a pattern person either, I occasionally like to have fun with uncluttered, timeless prints (like gingham!) I'm also a huge sucker for anything that's of midi length.
Namelazz (@namelazz)
The Grid: Artful + Elegant Silhouettes
View this post on Instagram
Sophia Chang (@sophiachang)
The Grid: Lifestyle Details + Everyday Wear 
View this post on Instagram
Cheyenne's Style: Eccentric, Bold and Never Boring
When I was younger, I was always told to dress more "feminine" and in a certain way. I think that's why when I finally had my own freedom to build my own wardrobe, I gravitated towards styles that are more unconventional and colourful. What I look for while clothes hunting are styles that are unique but still comfortable, with a particular interest in the silhouettes that can be created through them.
Kicki Yang Zhang (@kickiyangz)
The Grid: Experimental + Edgy
View this post on Instagram
Katie Orlowski (@stealthespotlight)
The Grid: 
Eye-Catching Collages + Funky Fits 
View this post on Instagram
Xylia's Style: Everyday Chic And Vintage Prints
Not one to usually hop on trends, I gravitate towards versatile pieces with earthy tones so I can easily mix-and-match. Strangely, as I get older, I find myself becoming more adventurous and adding a pop of colour to my wardrobe (my most recent obsession being pale green and yellow). I also really love vintage-inspired prints like floral, gingham and polka dots! And because I'm pretty small, I enjoy getting outfit inspirations from fellow petite women.
Kim Turkington (@loveclothblog)
The Grid: Effortless Style + Denim Denim Denim
View this post on Instagram
Bethany (@dearlybethany)
The Grid: Mindfulness + Petite Fashion + Outfit Flatlays
View this post on Instagram
—
There you have it, a glimpse of who inspires our #ootds at the moment. We hope these accounts inspire you to try something new, or even pull out that forgotten piece in your wardrobe to style it again.
P.S. Check out what fashion items we carted out this month on The DC Edit's homepage!

With love,
Xylia